From the imagination of Moltensteelman, flame effects and fantasy creatures step out of science fiction and into reality. Jaws drop and the cameras come out when these creations are seen in real life. With creations like this, we make appearances that make special occasions truly unforgettable.
Only a few lucky people have had a chance to ride on The Walking Beast, and a growing number of fans have seen Moltensteelman creations at events and festivals. While there is nothing quite like seeing these creations in real life, TV shows, magazines and YouTube videos posted by fans help make The Walking Beast an international favorite.
The Walking Beast meets Grave Digger while filming for The History Channel
We would be happy to explore ideas to bring one or more Moltensteelman creations to your private or corporate event, conference, celebration or festival. Please let us know if you would be interested in booking the rare chance to see these creations up close and personal.
Contact us at info@moltensteelman.com
Thank you for bringing out The Walking Beast. Everyone loved it and theyre still talking about it.
Jeff Ward, Nebulous Inc. (OSCON 2011)
The Walking Beast has appeared in

Check out these programs and articles featuring The Walking Beast by clicking on the links below:

Around The World in 80 Ways

Megadrive

Daily Planet

Popular Science Magazine

FF Journal Trade Magazine

Dark Roasted Blend -online publication
Moltensteelman Creations - Live Appearances

Burning Man - 2007, 2008, 2009, 2010, 2012

BurnOut Portland - 2007, 2008, 2009, 2010

Denver Mile High - 2008

Electric Daisy Carnival, Los Angeles- 2009

SOAK - 2010, 2012

NW Mogfest - 2011

Portland Oregon Local Tour - 2011

Nebulous Party, OSCON - 2011

Oregon City Pioneer Family Festival and Teddy Bear Parade 2012
Cartlandia Food Carts, Portland Oregon - 2012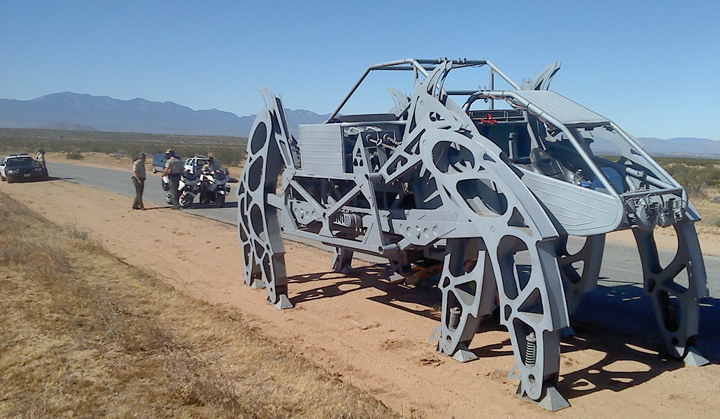 The Walking Beast gets some attention no matter where it travels.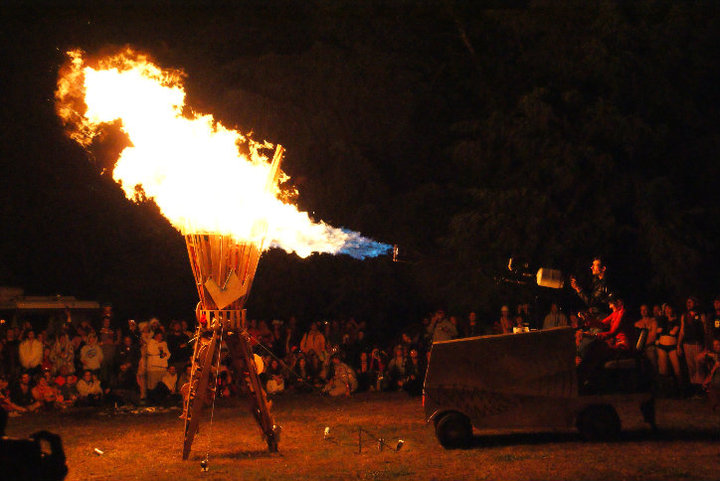 The Flamboni was so new it hadn't yet been painted when it ignited the effigy at SOAK 2010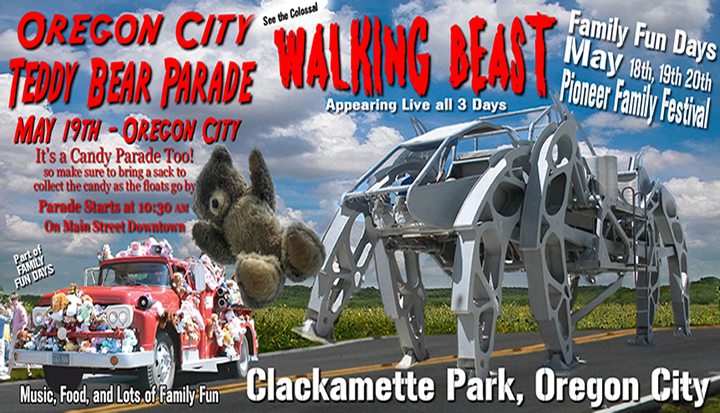 The Walking Beast was a big hit at the Oregon City Teddy Bear Parade.
Flamboni In Action
People love posting their videos of The Walking Beast on YouTube
Here are a few of our favorites: